For a meeting focused on Webelos badge requirements and an introduction to Boy Scouts, I came up with this word search.  This is meant to be used in a Webelos 1 den meeting.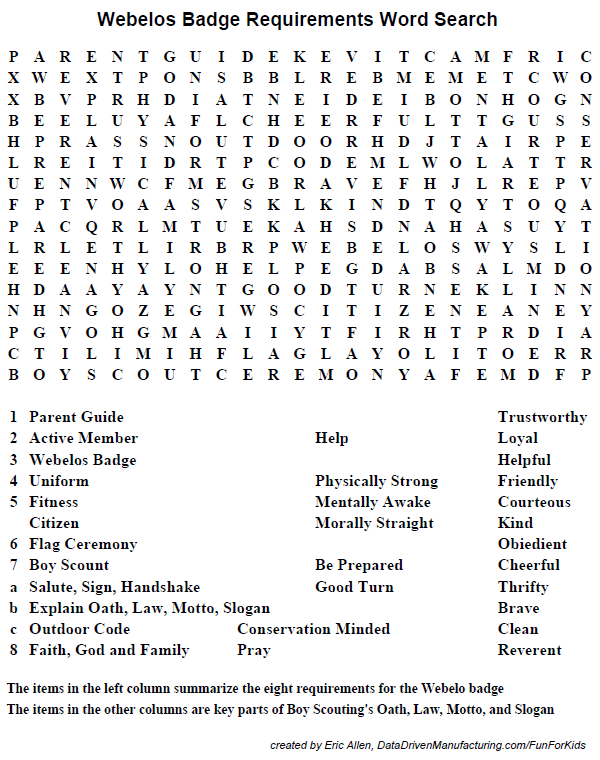 I used this first as a gathering activity as boys arrived to our meeting.  The boys could search for the terms on the bottom half of the page.  Every word listed is hidden in the word search. See who can find the most. Can the den find every one?
Next, as part of our meeting, I reviewed the eight requirements for the Webelos badge, going right down the left side of the sheet.  When we got to the Boy Scout items, we used this meeting to discuss and familiarize the boys with all the items.  The goal is that the boys "know and understand the requirements to be a Boy Scout."  So the boys took turns demonstrating and explaining each Scout requirement.  We talked about the meanings of the various terms in the Oath and the Law.  We talked about what was different from Cub Scouts- the Motto, the Sign, the Oath.
Click the link below to download a file to use.  You might be able to print the image above by right-clicking it and printing it, but the result may be a little blurry, compared to using the actual file in the link below.
Download a PDF file for printing
Download an Excel source file to change the content
I'm attaching both a PDF file and an XLS file.  The PDF can be read by Adobe Reader and printed with no hassles as it is formatted to fit on one page.  The XLS file allows you to change things and add more to the page before you print.  However, if you do, be very aware of cell justification (centering vs. left or right) which varies throughout the file.
Use this sheet as you feel fit.  I'm sharing it without restriction.  If you want to make your own wordsearch for another purpose, check out my explanation on how to create your own on the Word Search Creator page.  Let me know what you think by leaving a comment or sending me an e-mail.  Drop a link to other resources you think are good for this sort of thing in a comment (Sorry that making a comment is such a pain, but I have to put a few layers of protection to keep out spam comments.)  
Share the page on your favorite social media platform if you are so inclined by clicking on the appropriate button below.